Events
(listed with links to text)
GMPA OPEN HOUSE - WELCOME AND MIGRATION NETWORKING RECEPTION
Thursday 3 September 2015, 11 Avenue de la Paix
Welcoming friends and member participating in the 2015 GMPA Assembly (2-3 September), greeting the delegation from Migrant Forum in Asia, and marking the 25th Anniversary of UN adoption of the International Convention on the Protection of the Rights of All Migrant Workers and Members of Their Families...
Friday 14 August 2015, Palais des Nations (Salle VII)
Wednesday 24 June 2015, Palais des Nations (Salle VIII)
A participatory event highlighting key synergies and mutual dependencies among human rights, international migration, advancement of women equality and the development agendas, including the Beijing +20 Review process and the post-2015 UN Development Agenda. This stimulated dialogue and cooperation is an attempt to make common cause across intersecting concerns, constituencies and networks to shore up the rights-based approach to governance, equality and non-discrimination. The event was jointly organized by GMPA, the Arab Women's Solidarity Association-Belgium, Bangwe et Dialogue, European Network of Migrant Women, International Council of Jewish Women, Medical Care Development International, NGO Committee on the Status of Women geneva and the Rwanda Women Network.
Wednesday 11 March 2015, CCUN Chapel, New York
(Organized by Young Leader Caucus in partnership with GMPA)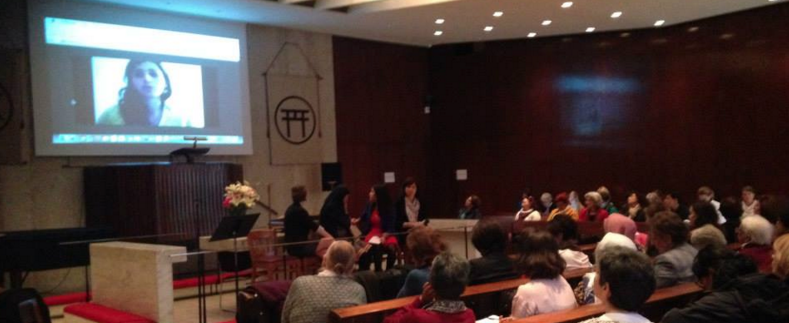 At the 59th Commission on the Status of Women (CSW), Global Migration Policy Associates (GMPA), in partnership with the Young Leaders Caucus (YLC) and the NGO Committee on the Status of Women - Geneva, held the "Human Rights and Migrant Women" panel in the CCUN chapel. Attended by over 50 participants as part of the NGO CSW parallel events, this panel highlighted the human rights challenges and responses regarding migrant women across the world in the context of the Beijing Platform for Action. Our unique partnership with the Young Leaders Caucus amplified the voices of emerging young leaders working in the field of migrants' rights and access to social justice.
Migration is an issue that affects women across the globe. Almost half of the global population of international migrants is women, and in some regions, women make up the majority of migrant populations. In reviewing the focus areas of the Beijing Platform today, Migration emerges as a crosscutting issue across all twelve themes. It is essential as we look forward to the next 20 years of working for women's rights that migration be considered, as it is a significant factor in many women's lives. But it should not be discussed as an isolated issue. This panel addressed three particular themes: violence against women, participation in society, and access to education.
This panel was one of several events promoting migrant women's rights at the CSW and in future coalition building efforts. GMPA remains concerned that the dominant discourse on migration paints a picture of migrants as economic commodities – not as human beings with families, lives, and fundamental human rights. GMPA looks forward to continuing the collaboration begun throughout the CSW59 process to ensure that both policy and practice recognize human rights as women's rights, which are inherently migrant women's rights.
Moderated by
Jitka Markova (
European Network of Migrant Women - Migrant Women's Platform)
Alicia Arbid (Arab Women's Solidarity Organization - Belgium, European Network of Migrant Women)
Melissa Garcia Velez (New York State Youth Leadership Council)
Dylan Terry (Young Leaders Caucus, Global Migration Policy Associates)
Roksana Mun (DRUM - South Asian Organization Center)
MIGRANT WORKERS AS PROMOTERS OF GLOBAL GOVERNANCE: THE NEXUS OF JUST DEVELOPMENT AND MIGRANT LABOUR RIGHTS
Sunday 7 December 2014, Mandela Hall
(Organized by GMPA in cooperation with Brot Für Die Welt & German Commission for Justice and Peace)
Speakers:
Eunice Dhadhla

(Assistant General Secretary, South African Domestic Services and Allied Workers Union - SADSAWU)

Nicola Piper (GMPA, University of Sydney)
Christal O. Spel

(Research fellow of Social and Public Policy, University of Helsinki)

Sophia Wirsching (Bread for the World, Germany)
Hildegard Hagemann (German Commission for Justice and Peace, Germany)
METROPOLIS 2014: GLOBAL MIGRATION POLICY WORKSHOPS - LABOUR MIGRATION GOVERNANCE, NEW INITIATIVES IN POLICY AND PRACTICE
Thursday 6 November 2014, 11 Milano
Labour Migration Governance: New Initiatives in Policy and Practice
(2:00 - 3:30 pm / White Room 04)
International labour and skills mobility is the defining feature of migration today, driven by globalization, technological change and evolving demographics. Despite comprehensive normative, policy and institutional frameworks set in place over the last century, governance of labour migration is widely characterized by absence of protection for migrant workers, counterproductive policies and control by institutions lacking relevant competencies. Nonetheless, innovative and effective responses are emerging; this workshop highlights several.
Alain Desmond (European Inter-University Center for Human Rights and Democratization)
Normative migration governance instruments and the role of civil society in promoting them: the case of ICRMW.
Katherine Youtz (Paris School of International Affairs - Sciences Po)
Nigeria and international migration: mapping international commitment in domestic law and policy.
Olga Kadysheva (Financial University Under the Government of the Russian Federation)
New and old policy responses to labour migration in Russia.
Patrick Taran (Global Migration Policy Associates)
The AU-ILO-IOM-ECA Africa labour migration governance and programme.
Migration in MENA: Business as Usual or New Openings for Decent Treatment?
(4:00 - 5:30 pm / Blue Room 02)
Migration is the zone of contention over whether development in MENA countries will continue to rely on abusive exploitation of foreign workers or whether real changes in policy and practice evolve. The panorama across the region spells continuing abuse and exploitation for millions of migrants. While "nationalization" of employment is proclaimed as solution, no State in the Gulf region can get far in reducing dependency on foreign labour. This workshop proposes a tour of conditions, crises and new developments to identify ways forward on law, policy, human rights and labour migration governance.
Patrick Taran (Global Migration Policy Associates)
MENA migrations: upheavals, disintegrating states, dependency on foreign labour, whither governance?
Ray Jureidini (Hamad Bin Khalifa University)
Labour recruitment charges from Asia to the Gulf: the origins of corruption, forced labour, debt bondage and trafficking.
Piyasiri Wickramasekara (Global Migration Policy Associates)
Migration governance challenge in a middle income country: the Jordanian experience.
Dylan Terry (Paris School of International Affairs - Sciences Po)
Palestinian Rights to Work in Lebanon: Advances and Gaps.
12th RHODES FORUM 2014 DIALOGUE OF CIVILIZATIONS
ROUNDTABLE: MIGRATION: REBUILDING THE WORLD, CHALLENGING CIVILIZATIONS
Saturday 27 September 2014, Rhodes
The migration workshop addressed human mobility as a major global phenomena and a significant vector of dialogue among peoples, nations and civilizations worldwide. Nine experts from diverse realities of Canada, India, Moldova, Portugal, the Russian Federation and the USA presented data, analysis and practical examples on contemporary migration challenges and governance responses. The animated exchange focused on three themes: mobility of labor and skills to maintain viable economies, lessons learned on integration of migrants for social cohesion, and effective responses to the mass refugee influx from the Ukraine into Russia.
The dialogue highlighted that migration today is mainly international labour and skills mobility which is increasingly necessary to maintain productive work forces and viable economies in industrialized countries due to evolution of technology, changes in the organization of work, and demographic decline of work forces in many countries. Reports on evolution of policy in the United States, recent legislative developments in the Russian Federation, and experiences from Bangladesh, India and Nepal helped identify global policy challenges and viable response measures.
Particular attention was focused on governance measures to protect and assist the estimated influx of 800,000 Ukranians into Russia since June of this year. Discussants identified options for providing legal status for Ukranians in refugee-like situations. Others enumerated the policy agenda of measures to facilitate integration of migrants based on successful experiences in Europe and the USA.
The workshop concluded that the dialogue on migration and its effective governance in context of intensified international and intercultural tensions is an ongoing work in progress and that it will remain an integral component on the agenda of dialogue of civilizations-- at local and national levels as well as globally.
The workshop was co-moderated by Lidia Grafova, President, International Public Association "Forum of Migration Organizations (Russian Federation) and Patrick Taran, President, Global Migration Policy Associates (Geneva). Expert speakers included: Jana Costachi (Moldova), Julia Florinskaya (Russian Federation), Pedro Gois (Portugal), Andrei Korobkov (USA), Jayshree Sengupta (India), Lisa Simeone (USA), Ray Taras (Canada), Olga Vorobyeva (RF), and Zhanna Zayonchkovskaya (RF). Olga Kadysheva (RF) was co-organizer.
GMPA OPEN HOUSE - MIGRATION NETWORKING: RECEPTION
Wednesday 6 November 2013, 11 Avenue de la Paix
Marking two years of GMPA and welcoming delegates and friends attending the ILO Tripartite Technical Meeting on Labour Migration...
Tuesday 4 November 2014, Palais des Nations (Salle IX)
(Interactive roundtable organized by the NGO CSW Geneva and GMPA)

Conveners:
Joyce Jett (International Representative, Medical Care International and Solar Cooker's International)
Colette Samoya (Founder, BANGWE - Founder, Dialogue)
Patrick Taran (President, Global Migration Policy Associates)
Speakers:
Krishna Ahooja-Patel

(International Representative, Women's International League for Peace and Freedom)

Gloria Moreno Fontes (Senior Labour Migration Specialist, ILO)
Patrick Taran

(President, Global Migration Policy Associates)

Monica Cristea (Board Member, European Network of Migrant Women)
Nunu Kidane (Director, Priority Africa Network)
Friday 4 October 2013, Leros Hall, Rhodes, Greece
(Discussion event organized with support from GMPA)
A Round Table to enhance harmonization of international relations and promotion of global stability. Specific purposes: to find paths to overcome migration challenges and risks; to balance interests of migration partner countries, migrants and receiving societies; and to identify good policies and practices for migration governance, integration of migrants and international cooperation in the field of migration. Speakers included academicians, researchers, practitioners, former government officials and recognized experts from the Russian Federation, Kazakhstan, Moldova as well as Austria, the Netherlands, Portugal and the USA. See program for speakers and topics.
Economies, Labour Markets, Demography and Mobility: Global Realities
♦ What needs for migrant skills and labour during economic cycles today (growth, downturns, recovery)?
♦ Unemployment and migrant flows: how to reconcile sometimes contradictory trends?
♦ How does the migration policy in different countries change as a response to the forthcoming economic crisis?
Migration and Societies: Adaptation and Integration
♦ Which categories of migrants need integration and which adaptation?
♦ Integration of migrants: universality of "western values" or transformation of western societies?
♦ How to resolve key issues for host societies: discrimination, xenophobia, tolerance, equality of treatment, integration?
Governance: Challenges, Mechanisms, Good Practices
♦ Migration governance: how to balance, interests of countries of destination, countries of origin, receiving societies and migrants?
♦ What are roles and responsibilities of government, employers and civil society in addressing migration?
♦ What innovations in the field of migration governance and integration of migrant deserve consideration and dissemination?
Friday 4 October 2013, Church Center of the UN (CCUN)
A strategic workshop summing up issues and activity, affirming common principles, and developing cooperation, coordination, and campaigning to realize the rights based agenda on migration, building on the call to reaffirm that a rights-based framework should be the primary framework for national as well as international discourse and action on migration. This workshop explores the range of concerns and actions conducted by civil society and seeks to enhance collaborative responses in defense of migrants' human and labour rights. Cosponsors : Global Migration Policy Associates with Amnesty International; BWI-Building and Woodworkers International Union; Centro de Derechos Humanos, Universidad Nacional de Lanús (Argentina); DRUM-South Asian Organizing Center; GAATW-Global Alliance Against Trafficking in Women; Observatory Caribbean Migrants; International Detention Coalition; ITUC-International Trade Union Confederation; PANiDMR-Pan-African Network in Defense of Migrants Rights; PICUM-Platform for International Cooperation on Undocumented Migration; PSI-Public Services International; Women and Global Migration Working Group (WGMWG). Speaker participants included: Kate Sheill GAATW, Chidi King ITUC, Francesca Pizzutelli, Amnesty International, Ben Lewis, International Detention Coalition, Carol Barton WGMWG; Nunu Kidane of PANiDMR moderated the event.
26-30 November 2012, Manila
Three complementary "round-table" workshop sessions following the main themes of WSFM 2012 intended to tell the whole story, build the narrative and trace the roadmap on global migration, human rights, social participation and governance of migration today and tomorrow:
Workshop 1: Migration Today: Global Realities, Crises, Impact and Consequences
Moderator: Patrick Taran (President, GMPA)
Raul Degado-Wise (Coordinator, Red Migraciones y Desarollo)
Global migration: vital importance to economies and societies: the real stories
Bandana Patanaic (Director, Global Alliance Against Trafficking in Women)
Migrant experiences and consequences
William Gois (Regional Coordinator, Migrant Forum in Asia)
Migration transforming nations and societies: identities, diversity and social cohesion
Marla Asis (Scalabrini Migration Centre)
Migration stakeholders: who, why and how?
Workshop 2: Human Rights, Rule of Law, Defending Migrants and Building Alliances
Moderator: Nicola Piper (Vice President, GMPA)
Patrick Taran (President, Global Migration Policy Associates)
Migration, human rights and the rule of law: why the construct and how it works
Abdelhamid El Jamri (Chairman, UN Committee on Migrant Workers)
The Conventions on migrant rights: effects, implementation and supervision
Badara Ndaiye (Pan-African Network for Development and Rights)
Migration today in regional free movement regimes: an African experience
Eve Geddie (Platform for International Cooperation on Undocumented Migration)
Alliance building, working together, building pressure: defending the undocumented
Workshop 3: Organizing for migration governance for rights, democratic participation and well-being
Patrick Taran (President, Global Migration Policy Associates)
Revitalizing the global architecture of governance: beatin back the deregulatory assault
Pia Oberoi (OHCHR Bangkok)
Resurrecting global commitments: Cairo, Copenhagen, Beijing, Durban, Geneva
Sophia Wirsching (Migration Officer, Brot Für Die Welt)
New challenges, new allies: environment, climate change, cities, communities
Jin Sook Lee (Migration Officer, Building and Woodworkers International Union)
Framing the issues: reconstructing the architecture
Thursday 27 September 2012, World Ecumenical Centre (Salle IV)
(Arranged by GMPA in cooperation with OHCHR)
A workshop to trace a roadmap on global migration, human rights and the governance of migration:
Summarizing knowledge and analysis on migration today, contexts, challenges, stakeholders
Addressing migration and human rights: vulnerabilities and protection gaps
Assessing the existing system of migration governance: international standards, institutional roles, stakeholders agendas and governance dialogue spaces
Imagine rights-based and participatory governance of migration
Session 1: Migration Today: Global Realities, Crises, Impact and Consequences
Starting the discussion by setting the stage and the context
Session 2:

Human Rights, International Standards: the Rule of Law Foundations for Protection and Governance




The normative framework of international law, rules, processes

Session 3: Reviewing the Global Architecture of Governance on Migration
Clarifying what we're talking about, and doing an annotated inventory of what exists
Session 4: The Future of Global Migration Governance
Identifying areas for action and brainstorming to clarify key issues, remedies and possible approaches
GLOBAL MIGRATION POLICY SYMPOSIUM:
DISCRIMINATION & XENOPHOBIA: MODERN DAY SCOURGES
vs. WINNING HEARTS AND MINDS FOR MIGRANTS
Wednesday 20 June 2012, Palais des Nations (Salle XXVII)
Two complementary "round-table" presentation and discussion sessions:
Outlining data, challenges and responses to discrimination and xenophobia against migrants
Obtaining positive public perceptions of migrants and migration in an increasingly mobile world
Rising discrimination and xenophobia against migrants/foreigners threaten social cohesion as well as lives around the world. Meanwhile, news media, public discourse and political campaigns in the North and South are dominated by imagery of migrants and migration threatening security, society and the very identity of nations. Yet economic, demographic and technological trends are increasing dependency of countries worldwide on foreign skills and labour, making human mobility a predominant feature of contemporary globalization. What is the extent of discrimination and xenophobia today, and how much a threat to individuals and societies? What is the reality of migrants' impact on societies? Why, despite increasing needs for skills and labour mobility, are attitudes and treatment towards migrants increasingly hostile? How can public attitudes and political discourse be altered to ensure human security and social cohesion? These urgent issues confronting national governments, local authorities, civil society, migrant communities and international organizations will be debated at this symposium, taking place in context of the UN Human Rights Council and International Labour Conference in Geneva.
MINI SYMPOSIUM: MIGRATION, FAMILY AND HUMAN RIGHTS
Tuesday 24 April 2012, Palais Wilson (Committee Meeting Room)
(Arranged by GMPA in cooperation with OHCHR & the Steering Committee)
A "round-table" presentation and discussion of conditions, challenges and rights-based responses to supporting family in the context of migration. Despite thousands of years of human migration usually in family groups, family and migration have not been examined together globally in academic, policy or practical terms. A first ever global symposium on migration, family and dignity was held 27-29 March in Doha, sponsored by the Doha International Institute for Family Studies and Development.
Projections of increasing worldwide labour and skills mobility in context of often restrictive migration policies urge a new look at the complex web of issues, connections and challenges in the nexus between contemporary migration and family. These include not only issues of family integrity, family unity, and family function in migration destination and origin countries. The family-migration nexus also poses unanswered challenges of social reproduction of work forces, obtaining skills for future viability of economies, and resolving increasing demographic and social security deficits. Changing gender roles and expectations; care, socialization and education of children accompanying migrants or remaining at home when parents migrate; issues of discrimination versus social cohesion also present immediate dilemmas. The impact of policy and governance approaches by national government, local authorities, civil society, migrant communities and concerned international bodies makes the family-migration nexus a direct and immediate concern for all stakeholders.
Format: brief remarks on key migration-family topics by experts and specialists followed by open discussion. Invited: CMW members, concerned officials/staff of international organizations, diplomatic missions, civil society and migrant organizations.
Topics & Panellists:
Wan-Hea Lee (Human Rights Treaties Division, OHCHR)
Fundamental Family Rights in International Standards
Piyasiri Wickramasekara (Vice President, GMPA)
Migration policy regimes: helping or hindering family?
Blandine Mollard (Gender Issues Coordination, IOM)
Gender considerations for protecting family in migration
Mirela Shuteriqi (Anti-Trafficking, Terres des Hommes International Federation)
Children in migration: accompanying, unaccompanied and remaining behind
Patrick Taran (President, GMPA)
Framing policy and practical responses